I've decided to have my own indoor cycling trainer built up. I'm not doing it myself but have a mate who does this sort of stuff for fun. He's done a prototype which I've looked at and it's pretty cool.

Normally I wouldn't bother but with my rehab it's likely when I do start training properly, I'll need to do quite a bit more indoors than I used to (which was bugger all). So if I'm going to have a trainer - I want one that I'll want to get on, rather than dread.

So here are the rough specs:

free wheel
7 speed hub gearing (a Shimano of some sort - heavy but bullet proof)
double reduction gearing (chainring to cog - hub gearing - to chainring to flywheel cog)
35kg flywheel with high quality industrial bearings (have to remove some mass from the 40kg flywheel we have available as it seems to make it too easy). Need to decide on the weight (moment of inertia I suppose).
foils attached to flywheel for air resistance (possibly adjustable for variable resistance - but only adjustable when not moving)
a stainless steel or alu frame that's fully adjustable in all directions (think of those specialised cycle fitter frames with square tubing) and solid as all hell but with a real bike feel
SRM power meter with their adjustable length cranks would be ideal (ergomo is out for various reasons - but mainly due to power measured by left leg only - half of which I don't have anymore!) - the prototype unit has an ergomo
I have considered putting a Powertap power meter in centre of the flywheel but concerned about longevity vs industrial grade bearings.
able to be moved (infrequently) by picking up at one end and rolling along. It'll be heavy!
covers for safety (esp. flywheel) and protection from sweat
fine tune resistance using either a felt padded brake on flywheel or some form of electromagnetic braking
The electromagnetic braking being considered are two types: eddy current braking by placing powerful magnets close to the flywheel or the addition of a hysteresis brake controller unit.
The large flywheel/gearing will enable full on acceleration work as well as standard aerobic and anaerobic development workouts.
A programmable ergo brake would be great but I have no idea if such a thing exists that meets my criteria:
Needs to be solid, reliable and readily available and not that expensive. The SRM will cost significantly more than the rest of this item together! One suggestion was to use the controller from a Cateye trainer, if one could be located.
Another clever mate of mine (Peter) built a unit which was the inspiration for this project. This one has a 33kg flywheel and double reduction gearing. I had a short ride of this unit a couple of years back and it was awesome. Pete's a sprinter - note the sprinter's pedals with the toe clips and straps.
Progress so far:
I have the SRM Pro power meter on the way. Picked one up for a really good price on ebay :)
Just need to finalise some construction details for the trainer itself.
Also on their way are some high power rare earth magnets from Frenergy Magnets, which I'm going to hook up a rig on the prototype to see how good they are at fine tuning resistance. These are very cheap at only a handful of dollars each.
The manufacturer of the hysterisis brakes are investigating the right type of brake and control unit. Cost might be a problem though, expectations are around A$1,500.
Here is a pic of another trainer unit which uses these high power magnets to control resistance. The small round discs are the magnets, which are able to be moved closer to (or away from) the flywheel, enabling the resistance caused by the eddy current braking effect to be modified.
Here are some photos of the prototype with an ergomo installed on which I had a client conduct a
MAP Test
on last night:
The trainer frame is adjustable in all dimesions imaginable and uses standard saddle, cranks and any handlebar arrangement you want.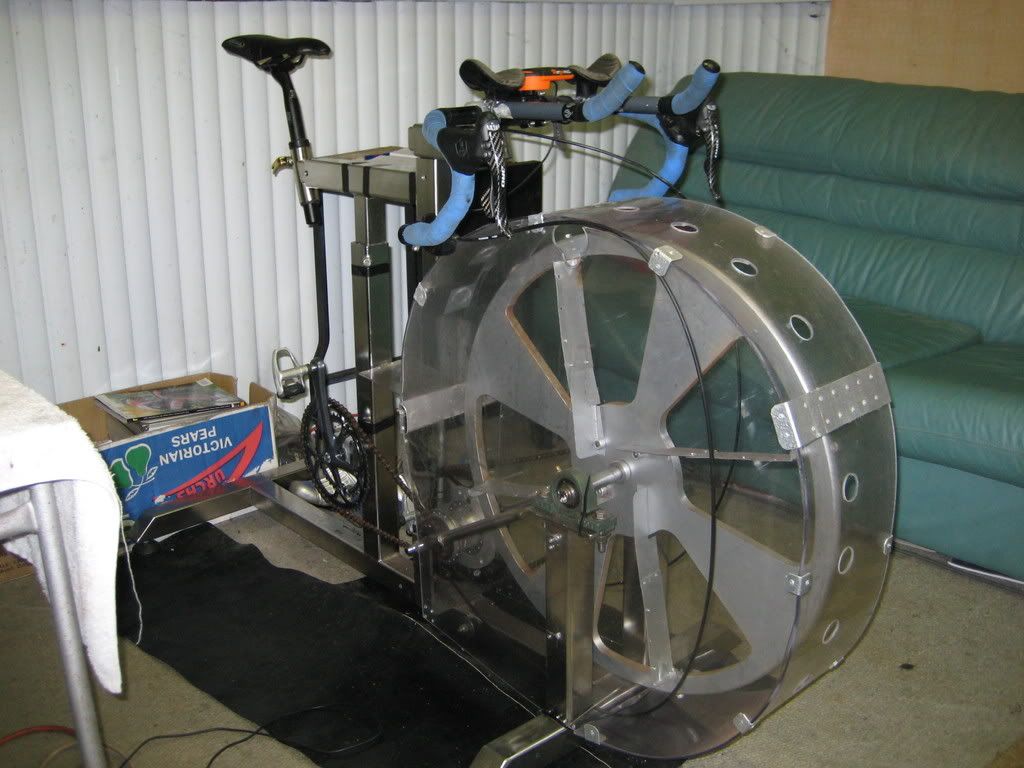 The double reduction gearing, with the hub gear shown, placed in the drivechain between the cranks and the flywheel. The hub gear can be moved up/down and fore/aft so the chain tension for both chains can be adjusted. The chain could use a bit of lube!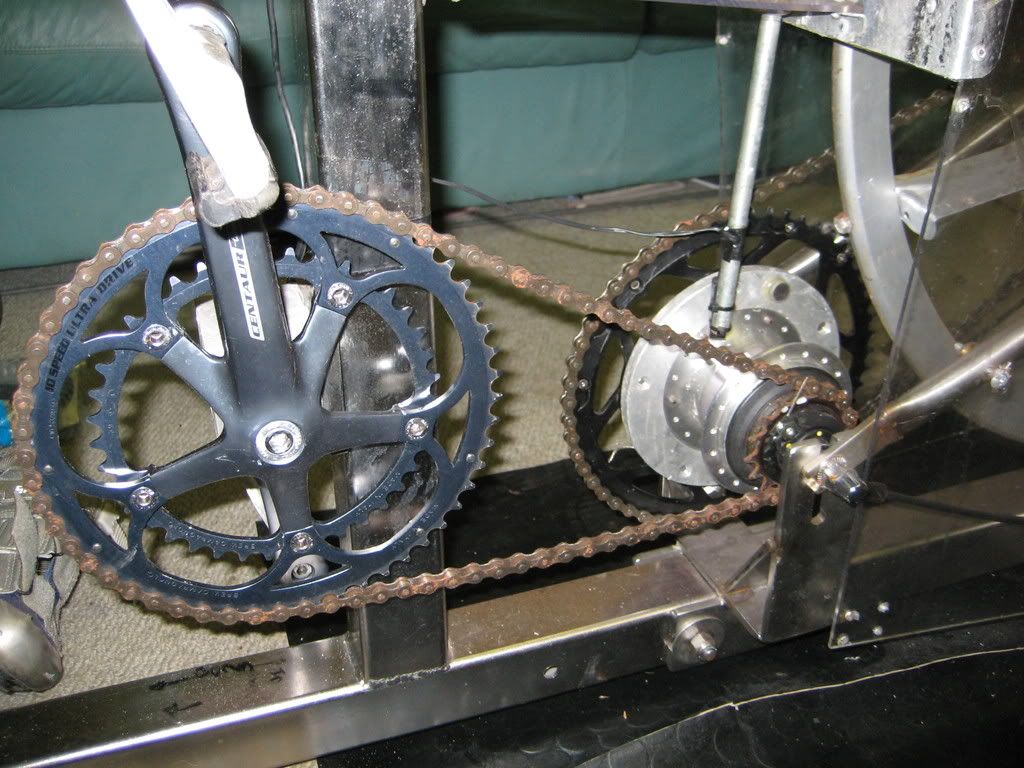 The prototype has an ergomo power meter. Not a good choice for me as it only measures left leg power. Any sort of handlebar arrangement can be fitted. The gear controller for the 7-speed hub gearing is shown on the drops at bottom right of picture.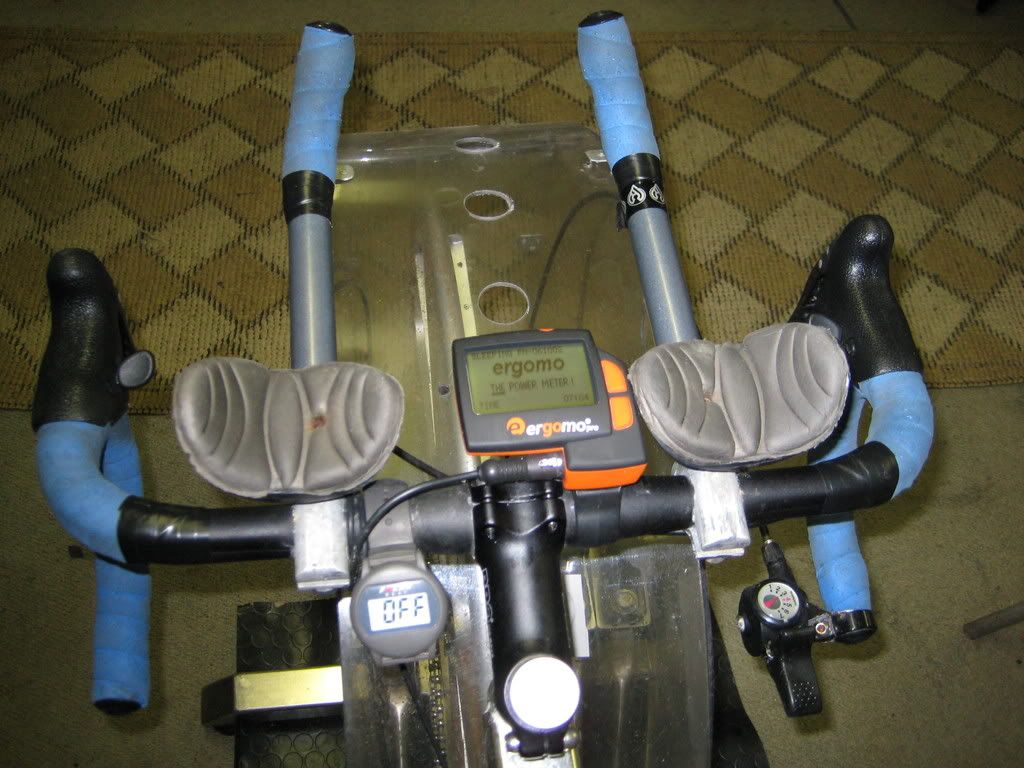 The flywheel I will have will be a solid disc. I'll have the diameter reduced instead of cutting out sections like in this one. It'll weigh something like 35kg when finished.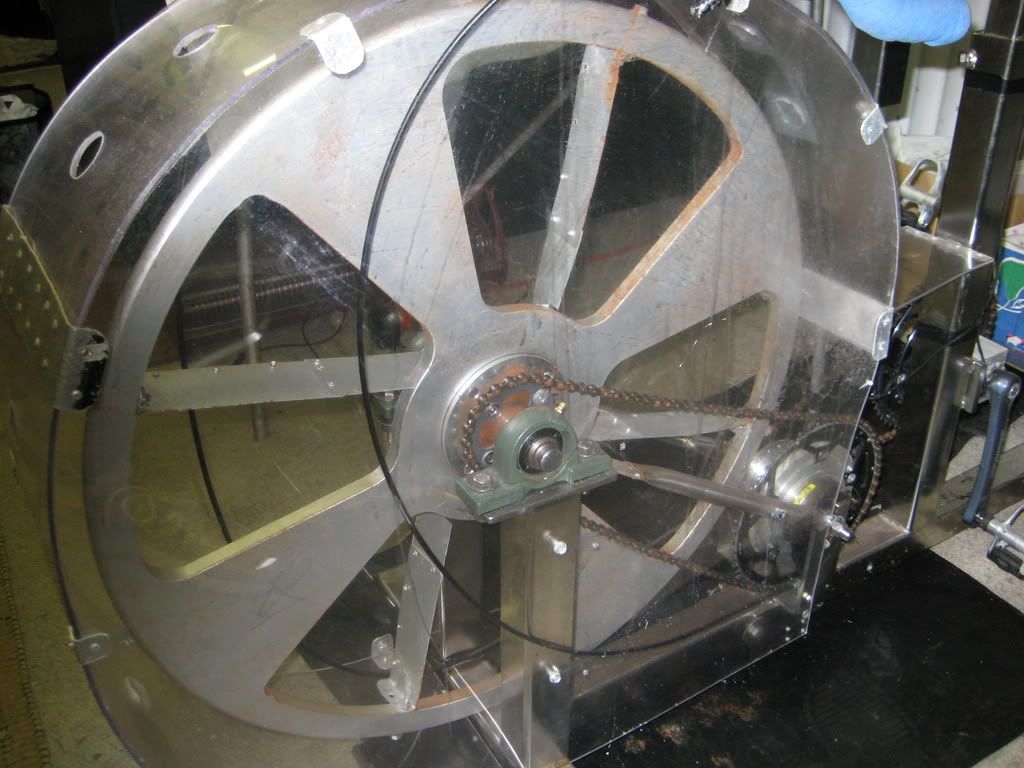 I also sought comments and discussion at the Cycling Forums site which can be found
here
.
Finally - why the hell don't I just buy one?
As to other trainers, well the only ones I know about with power and a large flywheel are the SRM, PT 300, Velodyne & Velotron. The SRM trainer is probably the closest but hideously expensive. Velotron would be perfect but is 5 times the price. PT 300 looks interesting but I don't like the handlebar set up, the less than fine tune adjustment of power levels and it's a fixed gear. I'd like gearing to allow a greater variety of workouts. And the prices:
300PT US$1,800
Velodyne US$2,600
SRM trainer US$7,250
Velotron basic US$5,700
Velotron Dynafit US$8,000
I'll let you know how I go!